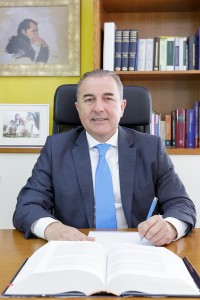 Academic training
• Law Degree from the University of Sevilla, Faculty of Huelva.
• Masters in Company Management (MBA) from the Business Institute in Madrid (IE).
• Masters in Legal Counselling from the Institute of Legal Sciences in Seville (ICIDE).
• Expert in Urbanisation and Property Development from the Seville Business Institute (IPE).
• Management of Real Estate Agencies from the Seville Business Institute (IPE).
Membership
• Ilustre Colegio de Abogados (Bar Association) of Huelva. Nº 2.126.
Experience
He began his professional career as an agent and head of sales at a real estate agency in Punta Umbría (Huelva). He worked in the financial sector for more than 16 years, forging himself a brilliant career as the branch manager at an important bank in several locations in the province of Huelva. He has also worked as the manager of a property development group and is currently the director of the MAR Real Estate office in Huelva and a professor of real estate sales at the Business Institute (IPE) in Malaga.
He has been working as a lawyer since 2003 and has lots of experience in the resolution of judicial and extrajudicial cases. He has achieved many favourable judgements for clients against banks regarding abusive clauses, floor clauses, illegal charging of commission, mortgage foreclosures and the misuse of toxic products such as financial swaps, structured deposits, convertible liabilities, subordinated debt and preferable shares.